Sometimes I wonder, why can't I be one of those girls with naturally perfect skin? You know, the girl who only uses a drugstore cleanser, moisturizer and it's all they need. But then again, if I was that girl I probably won't be trying hundreds of products and running a skincare blog. It's been a few months since my dryness problem went away, so now, it's time for breakouts! Yaaay, aren't you excited? not. Anyways, eventhough there are tons of products for breakouts, blemish, acne and white/blackheads on the market, they are not all created equal. I have dry combination skin with occasional blemish, so skincare products targeting acne/breakout tend to dry me out and I prefer spot treatment instead.
In terms of treatment for acne/blemish, there are three major ingredients that most products use: salicylic acid, sulfur and tea tree oil. All of them are antibacterial and helps to reduce shine. Salicylic acid, BHA, is probably the most prominent ingredient in acne skincare, but can feel harsh or irritating depending on what else it is mixed with in the product. Sulfur is a bit gentler on the skin but can be quite drying as well. Tea tree oil is the gentlest and not as drying, but it also has the mildest effect in my experience. The newest kid on the block are acne patches, which are surprisingly effective and convenient. In this post, I'll be reviewing the acne/whitehead fighting products I like from each category.
Burt's Bee Herbal Blemish Stick
It is a liquid consists of 10 herbal ingredients including Tea Tree and Juniper Oils, known for their astringent qualities. It has a refreshing herbal scent, it is not oily at all and absorbs quickly. The cooling feeling is great to soothe itchy or painful area, but it didn't do anything for my blemish at all. I see no improvement on my acne or whitehead after 2-3 uses like others, but it is great to sooth mosquito bites in the summer. If you do find other acne/breakout products to be too irritating or strong, then this might be a good choice.
Origins Super Spot Remover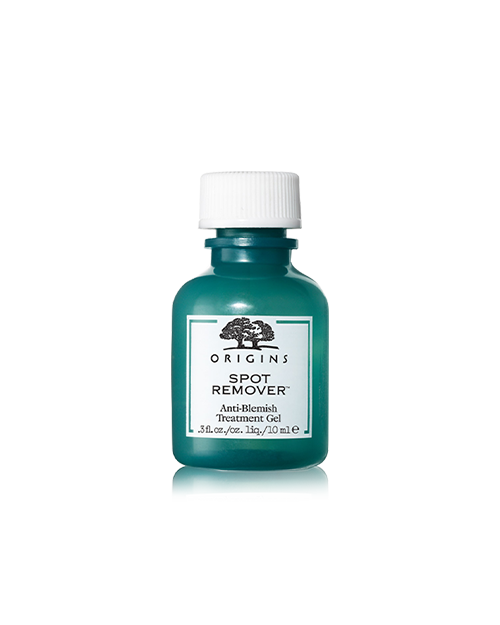 This clear gel contains 1.5% salicylic acid as well as red algae, cucumber and other extract to reduce redness. It feels cool/minty on the blemish but can sting a little when applied due to salicylic acid. For blemish from clogged pores and oil, such as whitehead around my nose, it dries them out and I see improvement the next day. But for the painful red bumps on the drier or more sensitive areas, or under-the-skin types that are not obvious, the acid irritates and dries my skin out without doing anything else.
Kate Somerville EradiKate
It is a 10% sulfur treatment that consists of pink powder with a layer of clear liquid on top. DO NOT SHAKE. The pink powder is the sulfur goodie that is going to heal your blemish. The clear liquid prevents powder from drying up into a rock and makes it easier to apply. It smells like sulfur, a little stinky, and feels cool on the skin. It stings a little if applied on open pimple, otherwise it feels soothing and helps to reduce blemish without drying out the area like salicylic acid treatments. I've had it for a few months and the top clear liquid have dried out, so the pink powder is drying up. If you don't use it often or find it too expensive, I've had the same great results from Mario Badescu drying cream. Not only do they help with surface blemish, sulfur also helps with the underskin type that have yet to come out. If you have a lot of breakout, a sulfur mask (Peter Thomas Roth, or Murad Clarifying mask) would be a great choice and can double as spot treatment.
AC Clinic Intense Spot Patches
They are clear acne patch stickers! I've seen them from a lot of Korean brands years before. It looks just like a thin translucent silicone tape. It sticks well, but if you remove and try to reposition it, then the edge doesn't stick as well. I feel cheated at first since there's no sensation and it seems to be doing nothing…for acne that is. However, it does a great job to coax the whitehead out. If you see the head of the whitehead, then just put it on. There is no need to squeeze, after 8 hours or so when you remove the sticker the whitehead comes out with it. Maybe because it's translucent, it helps tone down the redness and looks almost invisible on the skin so I also wear it during the day. You can see my whitehead without, and with it on:
Due to the texture, it doesn't work great under makeup, but it does help keep out dirt/bacteria and prevent accidental touching if your blemish is irritated and painful. The one in the picture is from AC Clinic, but I've tried two other random brands as well and they work just as great. You can get them on Korean websites like kollectionk for $2 (per sheet of 16 dots of various size). It works with all skin types as well.
Overall I would recommend the Origins for oily skin, Kate Somerville for all skin types, and the patch are great for painful whiteheads. If you find most acne/blemish products too irritating and drying or hate salicylic acid or sulfur, then a mild tea tree based product like Burt's Bee would be a great choice. So, what product do you use when you get blemishes?