$1,500 USD for 4 weeks supply of a skincare product. I will let you savor that for a moment….. Now, I've tried hundreds of skincare and there is a difference between drugstore $10 and mid-end $50 products. There are even one or two $100+ skincare product that I think may be worthy of the price. But $1,500 for 4 week? Granted, you are only suppose to use it twice a year so it's more like $1,500 for 6 month….. nope, still not feeling it.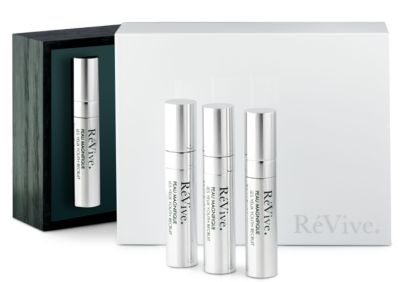 By the way, the product in question is Revive Peau Magnifique Youth Recruit. A wonderful fellow beauty loving friend gave me her sample (1 vial) of it for fear of trying it and falling in love with it herself. It is so out of my budget that I have no such fear, but it is available on Neiman Marcus for your purchasing pleasure. The product description didn't tell me anything useful so I looked online for other information about this product and found these:
Most informative/important tidbits are found on MakeupAlley, where one reviewer (anenjaa) mentioned that the product she bought from 2013 seems to have a different ingredients list with their original star/most important ingredients substituted out. Anothre reviewer (LeslieCZ) commented in 2007 "SOME of the P.M. RESULTS DO NOT APPEAR INSTANTLY. Part of its "miracle" is it regenerates adult stem cells over time, gradually (so you have to be patient, it takes a couple of months, and if you use it regularly the results definitely increase), but right away you will see a glow, improved clarity, more smoothness and decreased redness and inflammation. " I don't have wrinkles but I do have two acne, redness, some bumps, dark spots and large pores. Since I only have 1 vial, I hope I can see something from using it for a week…
Usage instruction: Apply one pump/drop of this everynight after cleansing and toning for 4 weeks (1 vial per week, with each day clearly labeled on the side of the vial) without putting any moisturizer on top since it might mess up whatever active ingredients it have, but you can use eye cream. It is meant to be used twice a year for best result.
Yes, well, I have zero plan to purchase it after finishing the vial I have. In fact, I'm not convinced about 1 drop for the whole face part. I didn't push down all the way the first time, so the image above is more like 75% of a drop, but I still needed ~1.5 to 2 drops to cover the whole face, which means instead of 7 days, I finished it on day 4.
It is a clear serum with a very mild chemical/sour smell. It looks, feels and applies like a serum. It sinks in pretty easily and disappears, as if I applied nothing on my skin after cleansing. It's winter and my skin is on the dry side so I was terrified that my skin is going to become super dry and flaky by the end of the week without moisturizer.
After the first day, some part of my cheeks feel a little dry the next day, but not as dry as I expected (no flaky, crackly, tight and irritated mess).
After the second day, my skin no longer feels dry. In fact, it feels soft and smooth and my pores look good. However, it did nothing for the acne, bumps or dark spots.
After the third day, my skin doesn't feel dry and my nose is starting to have a bit of oil. When you take away effect of the environment, my skin is naturally combination and this brought the balance back I feel. Skin texture feels smooth and pores look sliiiiightly smaller. Redness also went down some, as if I dusted on a light layer of foundation powder.
After the fourth day, I finished the vial. Alas, there is no way 1 drop will cover my whole face and I figured it's better to cover everything than disobey the instruction if I want to see result.
And there goes $375. So the effect on toning down the redness seems to be temporary, altho granted, most of the skincare claiming to tone down redness does nothing for me. I've came to accept the fact I'm "naturally embarrassed", har har.
I used it for 4 nights continuously while you were suppose to use it for 28 nights continuously. The biggest change is that it brought balance back to my skin so I'm combination again instead of being dehydrated combination. I also noticed that my skin stayed smooth eventho I did not exfoliate during those 4 days (usually my skin need exfoliation every 2-3 days). The redness reducing and pore refining effect was temporary for me, maybe it would've lasted if I had used the full set of 4 vials. I did not see any difference on dark spots, acne or bumps.
So yes, this did have a positive effect on my skin after 4 use. It brought my skin back to normal, not dehydrated and lessened the effect of the environment. It also made my skin feel smoother and look slightly healthier. I know this also targets wrinkles, which I don't have so I can't say anything about that. HOWEVER, this is $1,500 for 6 month (you use for 1 week but the effect is suppose to last for 6 month before you should use it again). If you take all the products in my skincare regimen every week into account, that's about 10 products. That means Revive Peau Magnifique Youth Recruit should work as well as if I've been using all $150 products in my skincare. I probably won't find anything that will give me the same effect with <$50 products, but if you give me a $100 per product for budget, I'm confident I can put together a skincare regimen that give just as an excellent result. Does this product give you nice result? yes. Can you find products that will give you just as nice of a result for less? definitely yes.